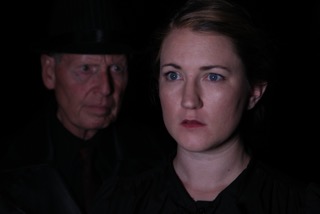 Wait Until Dark
From the hand of Frederick Knott, author of Dial M Murder, comes a major revival of the classic, edge-of-your-seat, thriller, Wait Until Dark. Set amidst the social turbulence of 60s' London the play follows the story of Suzy, a blind woman, who left alone in her apartment becomes embroiled with a group of conmen hatching an elaborate scam. As the tension mounts, Suzy is left to fend for herself but with the phone line cut dead and the house plunged into darkness, can Suzy outwit the murderous visitors?

Performances are October 18 - November 4 on Thursday, Friday, Saturday and Monday evenings at 7:30 pm. There will also be a Saturday matinee on November 2 at 3:00 pm.

Tickets are $15/Adults and $14/Students & Seniors (age 55 and older). Matinee is $1 less. What a great price for quality live theater!

Click on the Current Show button for more information.